Vacation Rental By Owner
Cabin Rental Policies
Fishermans Cove Cabins are self-catering, vacation cabins.
House Rules: If your needs are different, let us know. We want you to be comfortable.
Check-in is after 3:00 PM (in person or by lockbox)
Check-out is before 11:00 AM
Maximum Occupancy: 4 adults, 2 children
Minimum Age of Primary Renter: 21 years
Pets: We are not equipped for pets and do not allow any pets in the cabins whatsoever.
Smoking: No smoking is permitted within the cabins. There is plenty of seating on the porch or the huge deck.
Languages: We speak English, French and Spanish.
Cleaning Fee: Included
Damage Deposit: $300
Penalty: Accidental pet on premises surcharge: $1,000
Payment: Rental fee plus deposit are due within one week of confirmation of reservation or for last minute reservations, before check-in.
Cancellation: Cancel by the 5th day before your scheduled arrival and get a full refund. Following that, the one-night's fee and 50% fee for the remaining nights will not be refunded.
Currency: We accept US dollars and Euros; conversion at published rates.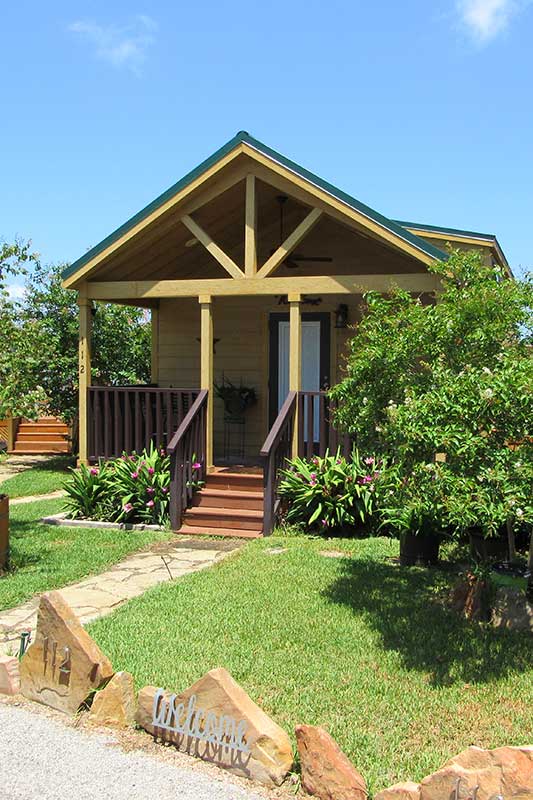 The Resort
Fisherman's Cove Lakeside Resort ("FCLR") is the property in which Fisherman's Cove Cabins are located. FCLR provides the pool, hot tub, clubhouse, boat launch, public barbecues and laundry facility for use by Fisherman's Cove Cabins guests. They will not respond if called about a problem other than water problems, electricity stoppage or backed-up sewer. FCLR is a wholly separate business. FCLR has a few rules and regulations which are common sense. Let us know if you want a copy of them. Not to worry, If there is a problem, you are in good hands with us.